Product
Surface Winding Slitting Machine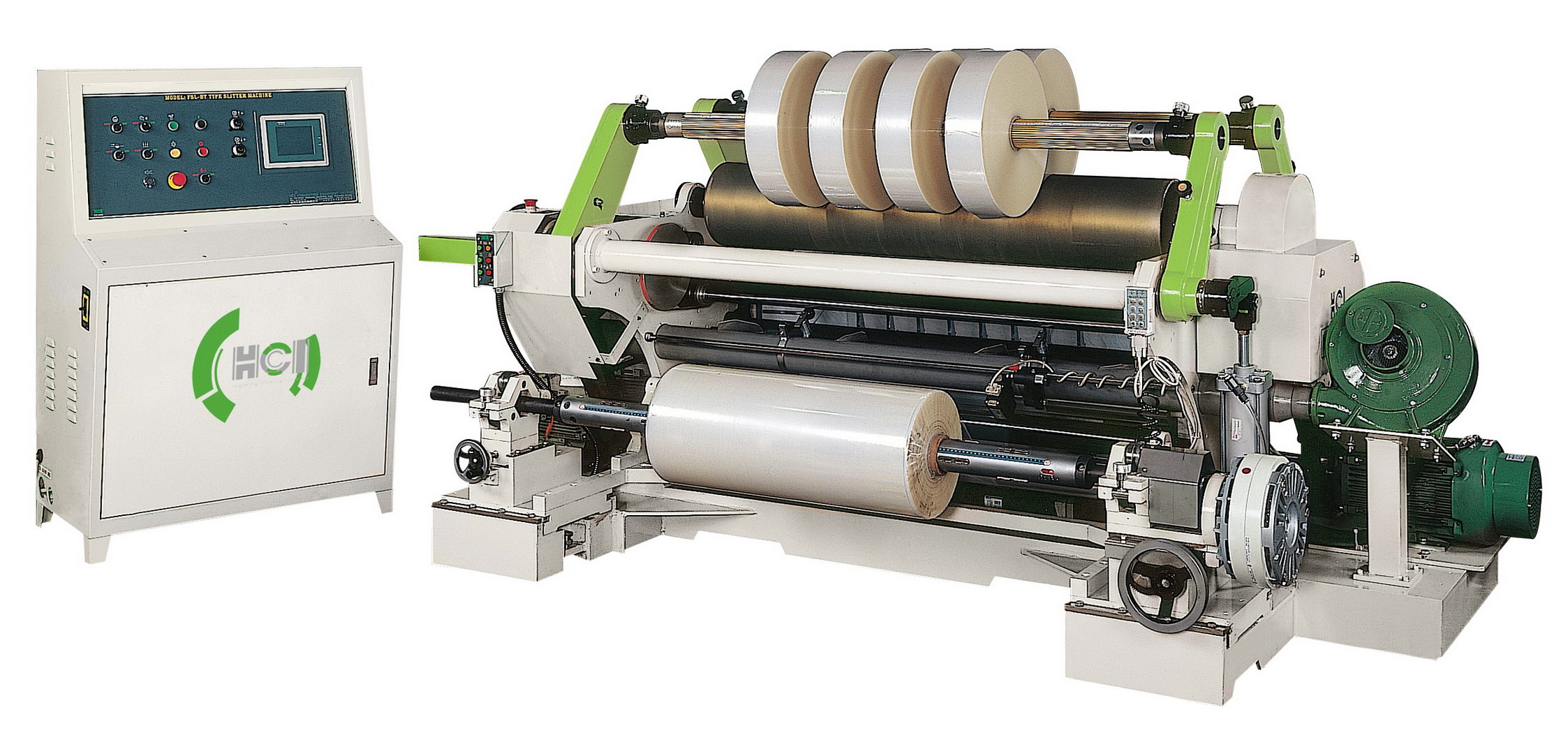 Surface Winding Slitting Machine
Product ID: FSL-BT
Design for slitting thin and slip plastic films of uniform thickness such as laminating paper, aluminum foil, stretch film, isolated film, sticker and other film rolls. The most smooth edge after slit is ensure by the surface wind method.
Series Models
FSL-BT1000,1300,1600,1800 Surface Winding Slitting Machine
Features:
Unwinding Section

Lift-up & floating type unwind stand with 3" air shaft.

The tension is sensed by load cell sensor and compared to the set tension.

Pneumatic nip rubber roller: providing perfect tension isolation.

Slitting Section

Razor cutting in the groove roller method.

Statics eliminator.

Equipped with trim reject fan and left/right moving type trim winder.

Surface winding Section

Two independent motors controlled each rewinding shaft for the most accurate tension output.

Rewinding diameter feedback system assures extremely stable rewinding tension without the need to adjust the tension according to speed and diameter variables.

Rewind shafts auto ascent/ descent mechanism help heavy rolls unloading.

Man-Machine Interface Control System

LCD colorful touch screen.

Dialogue parameter setting environment.

Parameters memory function.

Tension computes function.

Tension control auto/manual.

Unwind auto stop and material exhausted stop.

Meter reached auto stop.

Rewind tension auto increase.

Optional Accessories

Web guiding system (printing line & edge)

Hydraulic ascent/descent unwind stand.(dia.1,000mm)

Shear knives cutting method.

Vacuum type trim disposal system.

Special size of rewind shaft.
FSL-BT Surface Winding Slitting Machine Video

See more complete detail
| Specifications | FSL-BT1300 Surface Winding Slitting Machine |
| --- | --- |
| Mechanical Speed (m/min) | 0-200 |
| Core Inner Diameter (mm) | 76 / 3" or (152 / 6" Optional) |
| Web Width (mm) | 400 - 1,300 |
| Maximum Unwind Diameter (mm) | 600 |
| Unwind Tension Control | Magnetic Powder Brake With Load Cell Sensor |
| Slitting Techniques | Razor In Groove Roller |
| Trim Removal | Blower with Trim Winder |
| Minimum Rewind Web Width (mm) | 20 |
| Maximum Rewind Diameter (mm) | 500 |
| Rewind Tension Control | Vector Motor *2 |
Back to Surface Winding Slitting Machine showroom
Contact Detail
| | |
| --- | --- |
| Contact: | Alan Ho |
| Address: | 26, 7th Road, Taichung Industrial Park Taichung Taiwan (ZIP Code 40755) |
| TEL: | 886-4-23590632 |
| FAX: | 886-4-23590710 |
| Email: | alan@hci-tw.com.tw |
| URL: | http://www.hci.cc |
| ZIP: | 40755 |