Product
Slitting Machine Standard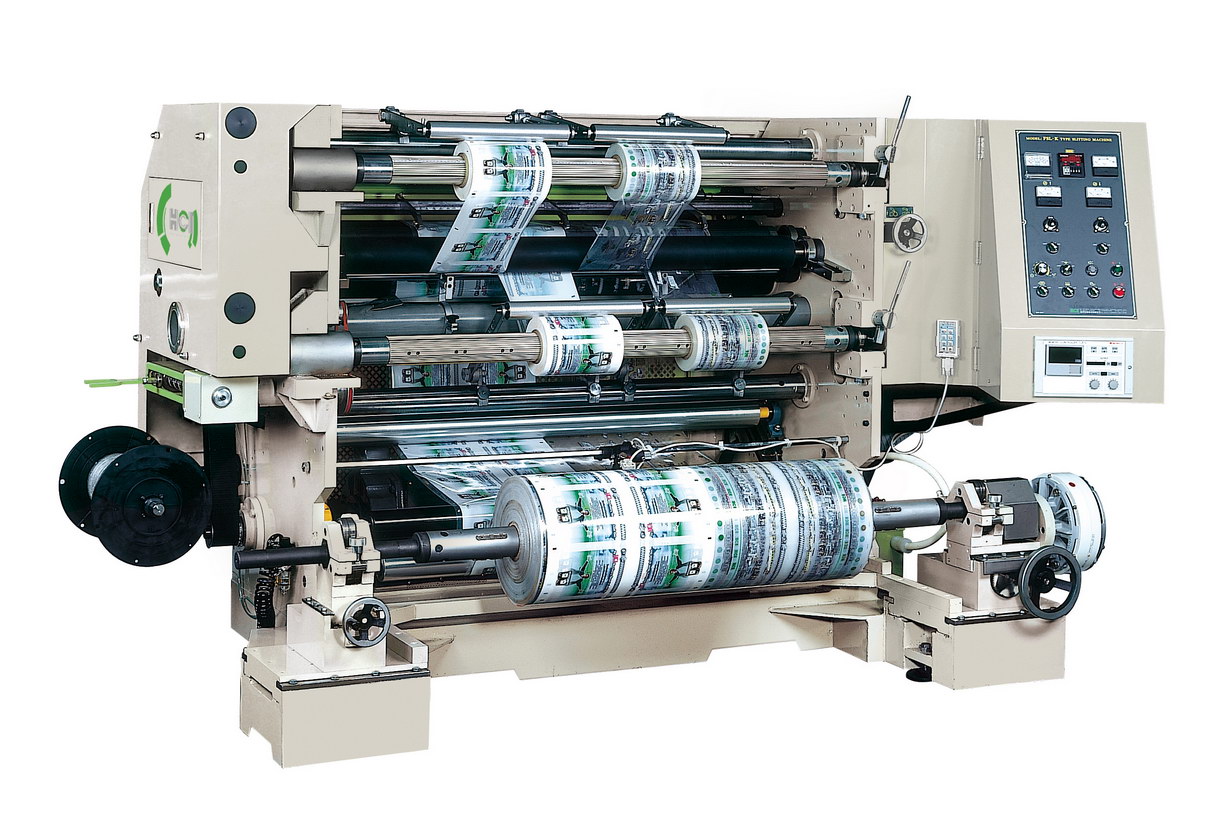 Slitting Machine
Product ID: FSL-K
One of the HCI best selling slitting machine, Over 1,400 units sold worldwide. A mature model with all the standardized components. Flexible specifications are available with a variety of optional accessories. Design for slitting all types of film roll such as Cellophane, PET, CPP,OPP,PE, PS, PVC, PAPER etc., both plain and printed. Also for slitting counterfeit-proof labels, electronics, computer and optical materials.

Series Models:
FSL-K1000,1300,1600,1800 Slitting Machine

Features:
Unwinding Section

Unwind and rewind is designed in same side providing the most convenient operation.

The transmission mechanism is specially designed to ensure stable operation and perfect edge smoothness.

Lift-up & floating type unwind stand with 3" air shaft. Single operator is required to manipulate and load the parent roll.

Equipped with web adjustment roller. It can reduce the winkle that cause by the low parent roll quality.

Slitting Section

Duo cutting system: razor cutting in the air and shear knives.

Equipped with statics eliminator, it discharges electrostatic charge while plastic film is being slit and rewound.

Equipped with trim reject fan and left/right moving type trim winder. Trim winder is designed on machine side saved floor space and the winding tension is adjustable.

Rewinding Section

Cantilevered rewinding shaft for easy operation. (Swing out type)

The rewinding mechanism is designed incorporating HCI friction quick lock rings to overcome the problems of material thickness variation.

Rewinding Lay-on roller *4 sets.

Equipped with meter counter which can stop the machine automatically when preset length reached.

Optional Accessories

Web guiding system (printing line & edge)

Hydraulic ascent / descent unwind stand: unwind dia.1,000mm, rewind dia. 600mm

Unwind tension auto controller with load cell sensor.

Rewind tension auto controller.

Razor cutting in groove roller method.

Vacuum type trim disposal system.
FSL-K Slitting Machine Video

See more complete detail
| Specifications | FSL-K1300 Slitting Machine |
| --- | --- |
| Mechanical Speed (m/min) | 200 |
| Unwind Stand | Shafted & Floating Type |
| Unwind Core Inner Diameter (mm) | 76 / 3" or (152 / 6" Optional) |
| Unwind Web Width (mm) | 500 - 1,300 |
| Maximum Unwind Diameter (mm) | 700 |
| Unwind Tension Control | Magnetic Powder Brake |
| Slitting Techniques | Razor / Shear Knives |
| Trim Removal | Blower with Trim Winder |
| Rewind Core Inner Diameter (mm) | 76 / 3" |
| Minimum Rewind Web Width (mm) | 50 |
| Maximum Rewind Diameter (mm) | 450 |
| Rewind Tension Control | Magnetic Powder Clutch + HCI Friction Quick Lock Rings |
Back to Slitting Machine showroom
Certificate:
CE Approvals for FSL-K Slitting Machine
Contact Detail
| | |
| --- | --- |
| Contact: | Alan Ho |
| Address: | 26, 7th Road, Taichung Industrial Park Taichung Taiwan (ZIP Code 40755) |
| TEL: | 886-4-23590632 |
| FAX: | 886-4-23590710 |
| Email: | alan@hci-tw.com.tw |
| URL: | http://www.hci.cc |
| ZIP: | 40755 |