Product
Reversible Rewinding Machine and Roll Inspecting Machine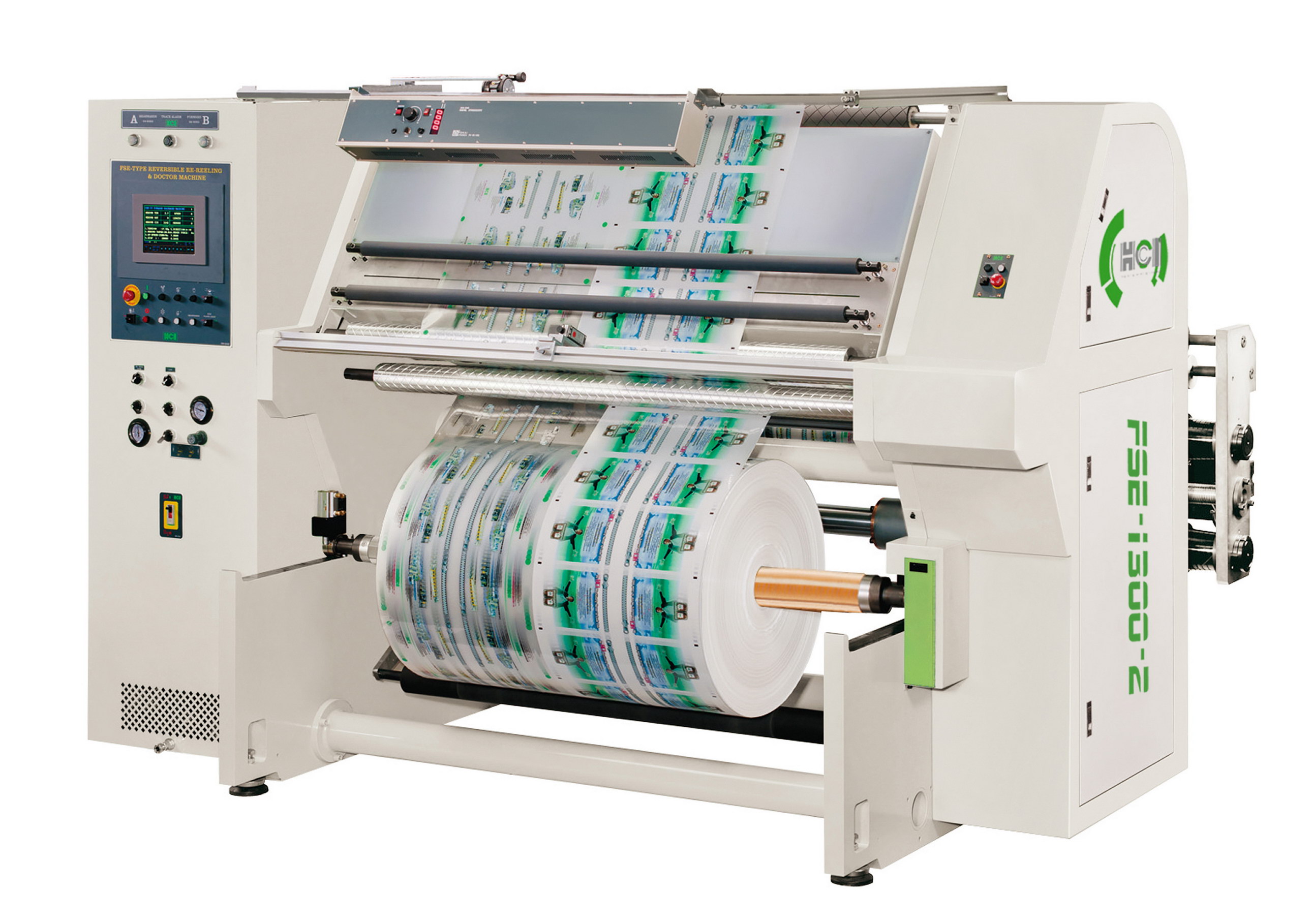 Roll Inspecting Machine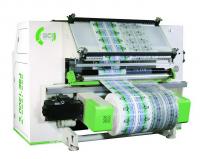 Reversible Roll Inspecting Machine
Product ID: FSE-2
The FSE-2 Roll Rewinding Machine and Roll Inspecting machine is design for
Surface inspecting for all kind of round roll such as flexible packaging, electronics, TFT-LCD and optical materials.

Defective inspection of the printed film and laminates.

Convert small rolls into big rolls, or vice versa.

Re-reeling operation of slit roll with uneven edges or tension.
Features:
Unwinding Section

The left and right unwind arms are dived by motor; the operator can adjust the width freely.

Equipped with pressure chuck for clamp the parent roll quick and easy.

Adopted edge guiding system, the smoothest rewinding edge is ensured.

Equipped with unwind control panel, single operator is required to manipulate and load the parent roll.

Unwind is driven by servo motor with inverter providing the most accurate control.

The winding tension is sensed by load cell and compared to set tension. The control system will increases or decreases tension according to the calculated the tension difference automatically. It can maintain the stable tension output during whole operation.

Slitting Section (Optional on FSE-2 Roll Inspecting Machine)

One machine with two functions: Install a trimming cutting unit for edges slitting.

Equipped with vacuum type trim disposal system. Specially designed ejectors with powerful ventilators remove the edge of web.

Inspecting Section

Equipped with observed board and fluorescent lamps for visual checking.

Length memorized and auto reverse function.

Rewinding Section

Rewind is driven by servo motor with inverter providing the most accurate control.

The rewinding direction can be changed in any time with forward / reverse jogging functions.

Equipped with pneumatic lay-on roller.

Micro-computer Control System

Adopted with industrial micro computer providing the accurate and stable control.

8" LCD colorful touch screen and simple figure display for setting.

Unwind auto stop and material exhausted stop function.

Rewind tension auto increase function.

Winding directions reverse function.

Meter reached auto stop function.

50 Sets of parameters memory function

Optional Accessories

1,000 width synchronic flash light:

Stroboscope for inspecting the defectives of the printed film.

Splicing table with pneumatic press-bar.

Trim cutting mechanism.

Statics eliminator.

CE mark approved.

Speed up to 300 m/min.

Auto inspection system such as BST, AVT, E+L and so on is available add on FSE-2 Rewinding Machine.


FSE-2 Reversible Rewinding Machine and Roll Inspecting Machine Video
See more complete detail
| Specifications | FSE-1300-2 Roll Inspecting Machine |
| --- | --- |
| Mechanical Speed (m/min) | 0-250 |
| Unwind Stand | Shaftless with Pneumatic Chuck & Floating Type |
| Unwind Core Inner Diameter (mm) | 76 / 3" or (152 / 6" Optional) |
| Unwind Web Width (mm) | 320-1,300 |
| Maximum Unwind Diameter (mm) | 800 |
| Unwind Tension Control | Servo Motor + Load Cell Sensor |
| Web Guiding System | Edge |
| Trim Slitting Mechanism (Optional) | Razor Cutting + Vacuum Type Trim Disposal |
| Rewind Core Inner Diameter (mm) | 76 / 3" or (152 / 6" Optional) |
| Maximum Rewind Diameter (mm) | 800 |
| Rewind Tension Control | Servo Motor |
Contact Detail
| | |
| --- | --- |
| Contact: | Alan Ho |
| Address: | 26, 7th Road, Taichung Industrial Park Taichung Taiwan (ZIP Code 40755) |
| TEL: | 886-4-23590632 |
| FAX: | 886-4-23590710 |
| Email: | alan@hci-tw.com.tw |
| URL: | http://www.hci.cc |
| ZIP: | 40755 |