Product
Aluminum Foil Embossing Machine / Paper Embossing Machine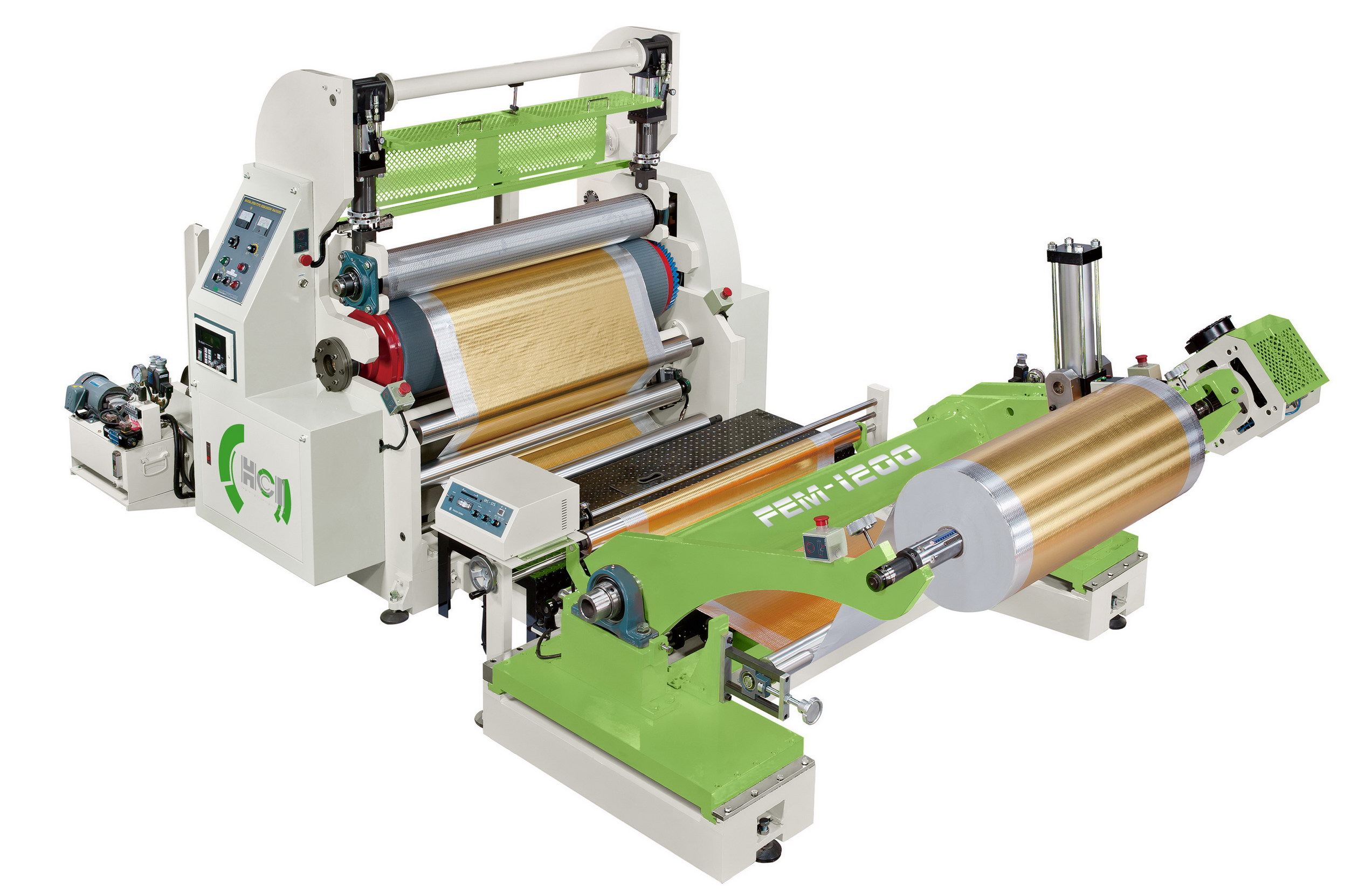 Aluminum Foil / Paper Embossing Machine
Product ID: FEM
Designed for surface embossing on beer labels, aluminum foil for tobacco packaging, various beverage labels, book cover, envelops, invitation cards, congratulatory cards, packaging paper boxes. The Foil /Paper Embossing Machine will upgrade outlook effect and product quality level.
Applicable packaging materials include paper laminate, metalized paper, aluminum foil / paper, composite film etc. The surface Embossing Machine not only provides attractive beauty, but also greatly increases visual effect.
Series Models: FEM-800, 1200, 1600 Aluminum Foil / Paper Embossing Machine
Features:
Unwinding Section

Lift-up type unwind stand incorporate with 3" air shaft makes the loading easier.

The unwind tension is sensed by load cell sensor and compared to set tension. The auto controller will increase or decrease tension according to the calculated differences automatically.

Equipped with pneumatic brake for unwind tension control.

Equipped with curve roller device and adjustable aluminum roller to facilitate material's parallel without wrinkling.

Embossing Section

The embossing system is hydraulically operated.

Micrometric adjustment allows for accurate adjustment of embossing gap to achieve consistent grain depth.

The aluminum embossing roller is hard chrome plated. The lower pressure roller is nylon pressurized steel roller, providing long service life and stable embossing machine motion, clear and excellent grain.

Rewinding Section

Single air shaft surface rewinding features consistent tension and maximum smoothness of roll. No product damage and high production efficiency.

Equipped with meter counter for machine auto stop when setting length reached.

Optional Accessories

Shaftless & hydraulic ascent/ descent unwind stand.

Web guiding system. (Edge)

Unwind tension auto controller.
See more complete detail
| Specifications | FEM-1200 Aluminum Foil / Paper Embossing Machine |
| --- | --- |
| Unwind Diameter (mm) (max.) | 1,000 |
| Material Width (mm) | 600 - 1,200 |
| Paper Core Inner Diameter (mm) | 76 / 3" |
| Rewinding Type | Center rewinding with single shaft |
| Mechanical Speed (m/min.) | 0 - 150 |
Back to

Embossing Machine

Showroom
Contact Detail
| | |
| --- | --- |
| Contact: | Alan Ho |
| Address: | 26, 7th Road, Taichung Industrial Park Taichung Taiwan (ZIP Code 40755) |
| TEL: | 886-4-23590632 |
| FAX: | 886-4-23590710 |
| Email: | alan@hci-tw.com.tw |
| URL: | http://www.hci.cc |
| ZIP: | 40755 |