Product
Slitting Machine Integration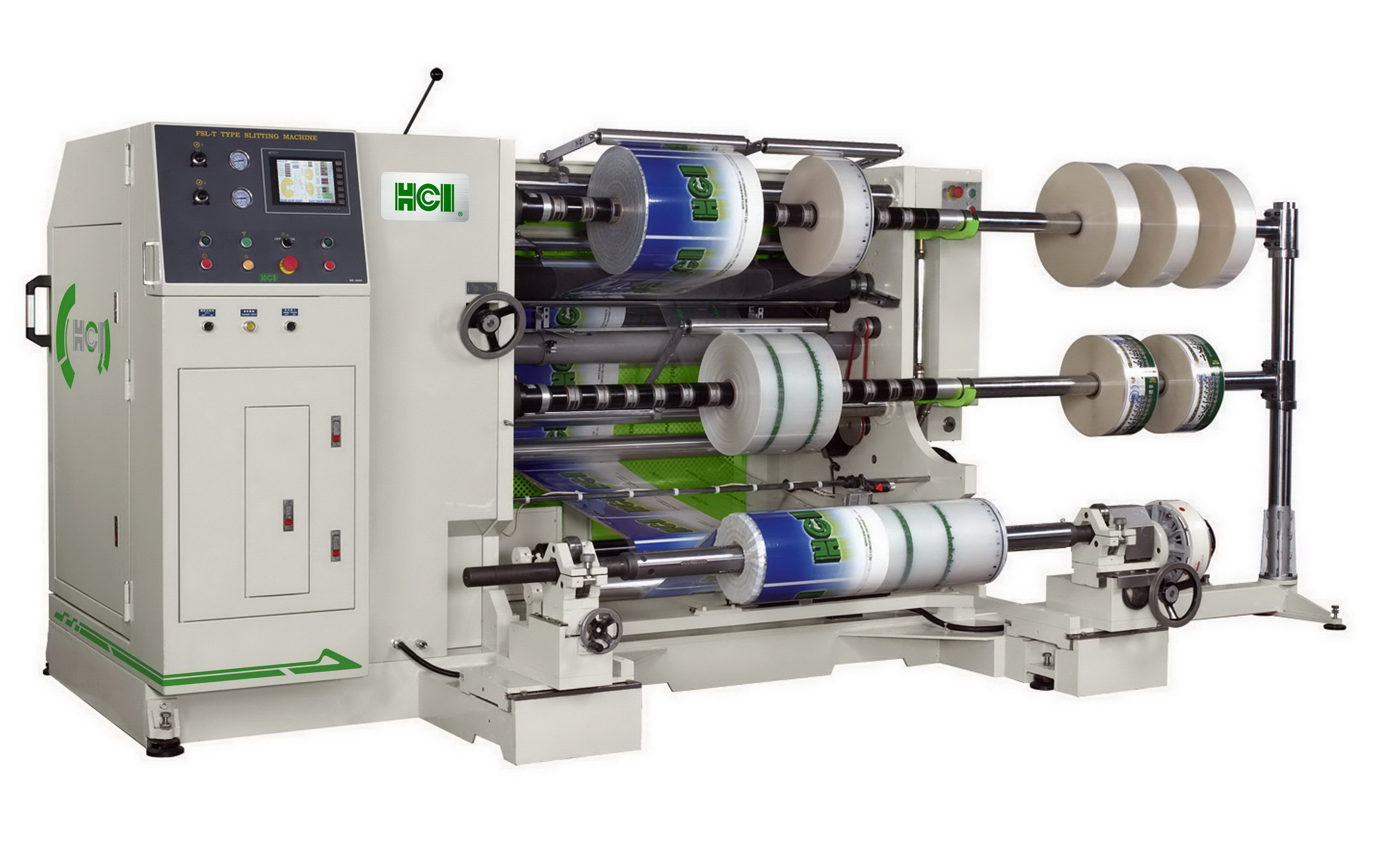 FSL-KT Integration Slitting Machine
Product ID: FSL-KT
The design concept of FSL-KT Integration Slitting Machine is Combine the advantages of two HCI best-selling models FSL-T and FSL-K. The unwind and rewind structures is design in the same side which provides the convenient operation. Also equipped with three motor control and PLC interface suitable for slitting various film, foil and paper rolls.
Series Model: FSL-KT1000,1300,1600,1800,2000 Slitting Machine
Features:
Unwinding Section

Unwind and rewind in the same side, the operator can monitor the jumbo roll and slit reel at same time.

Lift-up & floating type unwind stand with 3" air shaft. Single operator is required to manipulate and loading.

Web guiding system enable to detect the printing line and web edge.

Unwind tension auto controller with load cell sensor.

Pneumatic nip roller for tension isolation point between the unwind and rewind.

Slitting Section

Duo cutting system: razor cutting in the air and shear knives.

Equipped with statics eliminator, it discharges electrostatic charge while plastic film is being slit and rewound.

Equipped with left/right moving type trim winder on the machine side.

Rewinding Section

The rewinding mechanism is designed incorporating HCI friction quick lock rings to overcome the problems of material thickness variation.

Rewind Lay-on roller *4 sets.

Equipped with products discharge device: helps heavy rolls unloading as well as efficiency during slit roll exchange.

Control System

Three individual motors: 2 for rewind shaft, 1 for the main drive.

LCD colorful touch screen.

PLC- programmable logic controller.

Parameters memory function.

Tension manual/ auto mode.

Unwind auto stop and break stop function.

Meter reached auto stop function.

Upper and lower rewind shaft different winding direction function.

Rewind tension auto increase function.

Optional Accessories

Hydraulic ascent / descent unwind stand:




unwind dia.1,000mm, rewind dia.600mm

Laser core positioning device.

FSL-KT Slitting Machine Video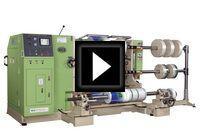 See more complete detail
| | |
| --- | --- |
| Specifications | FSL-KT1300 Slitting Machine |
| Mechanical Speed(m/min) | 300 |
| Unwind Stand | Shafted & Floating Type |
| Unwind Core Inner Diameter (mm) | 76 / 3" or (152 / 6" Optional) |
| Unwind Web Width (mm) | 500 - 1,300 |
| Maximum Unwind Diameter (mm) | 800 |
| Unwind Tension Control | Magnetic Powder Brake |
| Slitting Techniques | Razor In Groove / Shear Knives |
| Trim Removal | Blower with Trim Winder |
| Rewind Core Inner Diameter (mm) | 76 / 3" |
| Minimum Rewind Web Width (mm) | 50 |
| Maximum Rewind Diameter (mm) | 450 |
Other Slitting Machine
Contact Detail
| | |
| --- | --- |
| Contact: | Alan Ho |
| Address: | 26, 7th Road, Taichung Industrial Park Taichung Taiwan (ZIP Code 40755) |
| TEL: | 886-4-23590632 |
| FAX: | 886-4-23590710 |
| Email: | alan@hci-tw.com.tw |
| URL: | http://www.hci.cc |
| ZIP: | 40755 |