Product
Slitter Rewinder Practical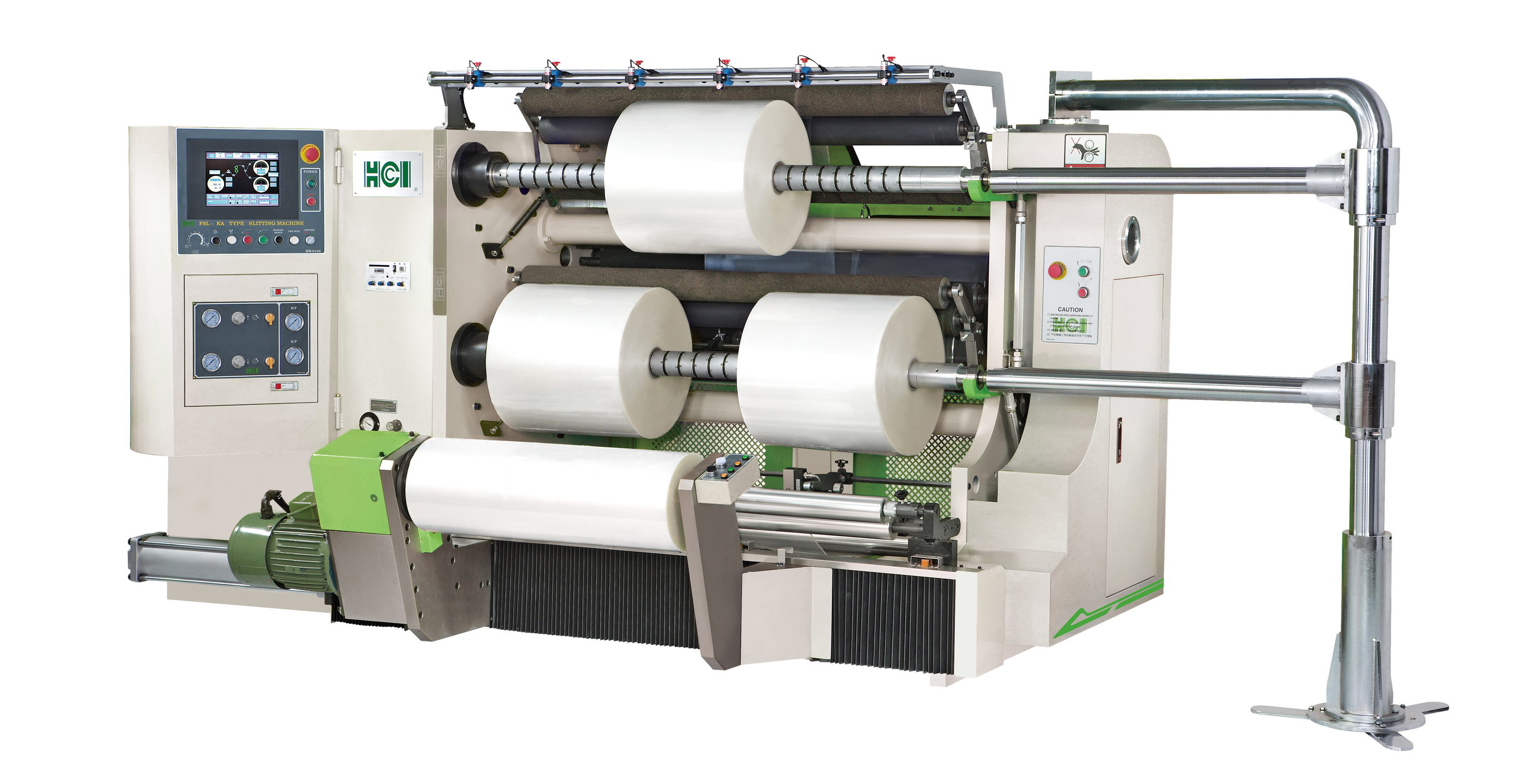 Slitter Rewinder
Product ID: FSL-KA
HCI Newly develop Slitter Rewinder, the FSL-KA Series Slitter Rewinder is designed for slitting a wide variety of materials such as, cellophane, PET, OPP, CPP, PE, PVC, paper rolls, and printed materials.
Features:
The Integral Structure of FSL-KA Slitter Rewinder

This compact design occupies minimal floor space. Unwind and rewind is designed in same side providing the most convenient operation.

Enlarge the roll capacity: unwind diameter can reach to 800mm; rewind diameter can reach to 500mm. Reducing the loading frequency and expanding the applied ranges.

Shaftless & Pneumatic-Chuck Unwind Stand


The left and right unwind arms are driven by motors and liner guideway, each arm can move individually. Especially for the parent roll which is uneven seriously.(New structure only on FSL-KA Slitter Rewinder)

Equipped with pneumatic chuck for clamp the parent roll efficiently and easy.

Quick change for different size of chucks.

Equipped with web adjustment roller. It can reduce the wrinkle that cause by the low parent roll quality.

Web Guiding System

Whole unwind stand can move horizontally, left and right each 70 mm. It can ensure the accuracy of slitting position. The guiding system operates in two modes:




1. Web edge guiding




2. Printing line guiding

3 Motors Winding System


Three individual motors: One motor drives upper rewind shaft, one drives lower rewind shaft and the third motor is connected to the main drive roller.

The operator can set the tension and material thickness for each rewind shaft separately.

The winding direction of rewind shaft can be changed in any time and upper and lower shaft can run different direction also.

Auto Unwind Tension Control


The unwind tension is sensed by load cell and compared to the set tension. The microcomputer control system will increases or decreases tension according to the calculated the tension difference automatically. It can maintain the stable tension output during whole operation.

Main Drive Nip Roller

Tension isolation point through pneumatic nip rubber roller, giving perfect tension isolation between unwind and rewind. It also ensures no slippage or scratches.

Duo Slitting System


Shear knives and razor blades are able to work independently or simultaneously. Due to compact machine design the change of slitting method is easily achieved.

Segmented groove roller can insert to the lower knife shaft directly. It is possible to change groove roller without removal any shaft.

Upper knife shaft tracks designed for quick install of male knives.

Lower knives shaft is equipped by cantilevered joint. It reduces the job exchange time greatly. The arrangement for aluminum spacers and female knives can be done without take the lower shaft out.(New Design Only on KA Series Slitter Rewinder)

Equipped with protecting cover for slitting section, prevent personal injured.

Trim Disposal

Equipped with trim reject fan. Specially designed ejectors with powerful ventilators remove the slit edge of web.

Statics Eliminator

It discharges electrostatic charge while plastic film is being slit and rewound.

Laser Core Positioning System


A manual laser adjustment system enables the operator to reload new cores quickly and accurately minimizing the setup time. The laser indicates the core position on the rewind shafts allow precise positioning of cores. (Optional Accessories for KA1300 Slitter Rewinder)

Hci Quick-Lock Type Individual Friction Winding Technology (Patent No. 131681)


Automatic calculation control for rewinding employs HCI's self-developed precision friction rewinding ring, combined with automatic side-pressure tension compensation. Two independent rewinding motors. Rewinding tension is controlled by a fully-automatic air control system. An intelligent rewinding diameter control system assures extremely stable rewinding tension without the need to adjust the tension according to speed and diameter variables. Set the setting tension according to the initial condition, and then the entire tension - from initiation to finalization - is automatically controlled by memory and feedback.

Pneumatic Lay-On Rollers


Adopted with 2 sets of pneumatic lay-on rollers for build the good slit roll structure.

Products Discharge Device


Equipped with products discharge device: helps heavy rolls unloading as well as efficiency during slit roll exchange.

Mirco Computer Control System


Adopted with industrial micro computer providing the accurate and stable control.

LCD colorful touch screen and simple figure display for setting.

Dialogue parameter setting environment for fast start.

Tension control auto/manual function.

Adopted with two rewind tension control programs: Rewind Torque mode & Rewind Speed mode.

Rewind tension auto increase function.

Upper and lower rewind shaft different winding direction function.

Tension simulate function.

Unwind auto stop and material brake stop function.

Parameters memory function: included material thickness, initial diameter, tension and so on.
See more complete detail
| Specifications | FSL-KA1300 Slitter Rewinder |
| --- | --- |
| Mechanical Speed [m/min] | 300 |
| Unwind Core Inner Diameter [mm] | 76 / 3" or 152 / 6" |
| Unwind Web Width [mm] | 320-1300 |
| Maximum Unwind Diameter [mm] | 800 |
| Unwind Tension Control | Magnetic Powder Brake With Load Cell Sensor |
| Web Guiding System | Printing Line / Edge |
| Guider Movement [mm] | +/- 70 |
| Slitting Techniques | Razor In Groove Roller/ Shear Knives |
| Trim Removal | Blower with Trim Winder |
| Rewind Core Inner Diameter [mm] | 76 / 3" |
| Minimum Rewind Web Width [mm] | 50 |
| Maximum Rewind Diameter [mm] | 500 |
| Rewind Tension Control | HCI Quick-Lock Type Individual Friction Winding Technology |
More Slitter Rewinder
Contact Detail
| | |
| --- | --- |
| Contact: | Alan Ho |
| Address: | 26, 7th Road, Taichung Industrial Park Taichung Taiwan (ZIP Code 40755) |
| TEL: | 886-4-23590632 |
| FAX: | 886-4-23590710 |
| Email: | alan@hci-tw.com.tw |
| URL: | http://www.hci.cc |
| ZIP: | 40755 |