Product
Small Roll Slitter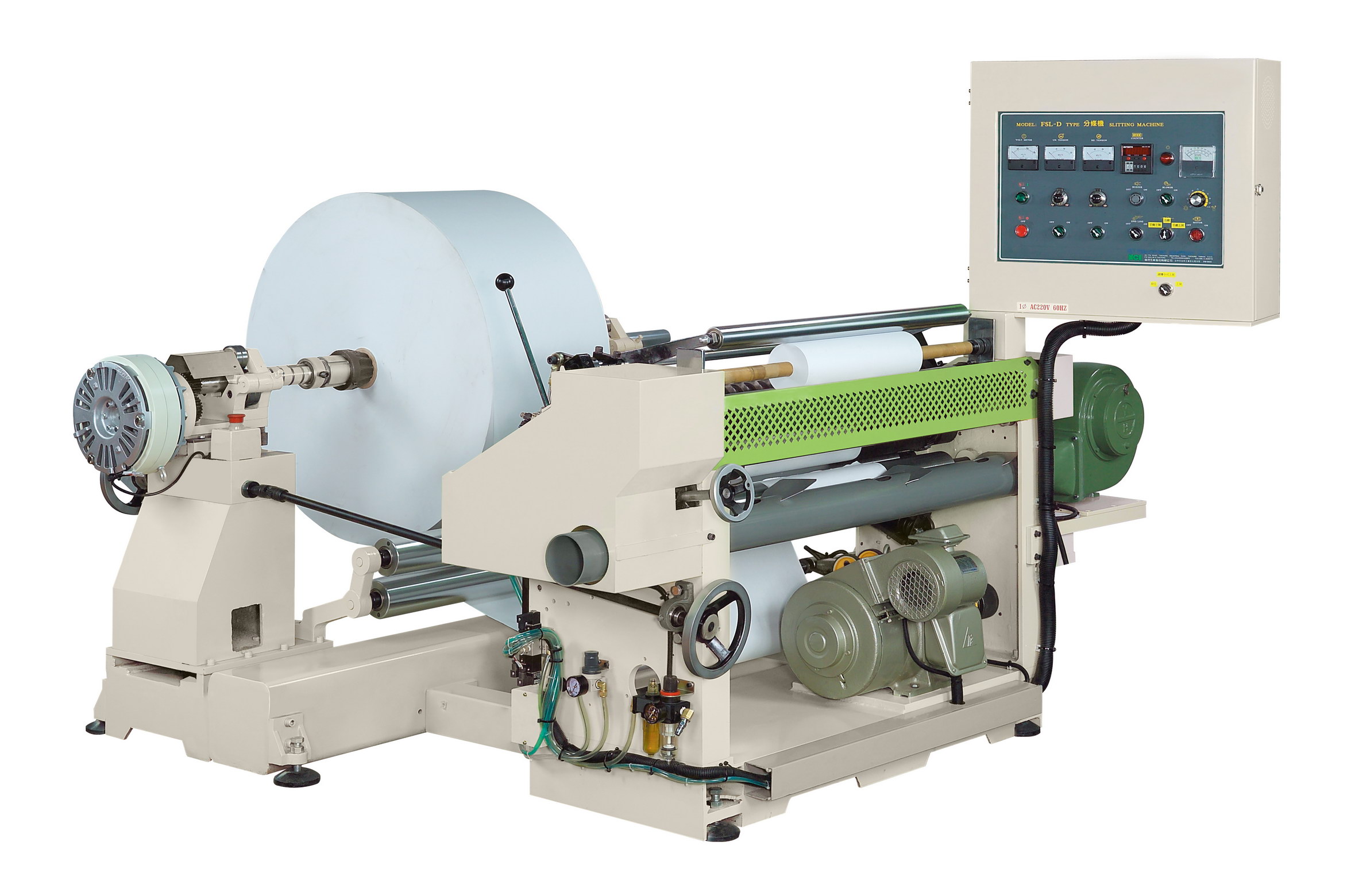 Small Roll Slitter
Product ID: FSL-D
The Small Roll Slitter is ideal for slitting large parent roll into small bobbins such as POS, ATM, cash register, ticket, receipt, thermal paper, fax, lottery, medical report and various paper roll for office use.
Series Models:FSL-D600,800,1000 Small Roll Slitter
Features:
Unwinding Section

Lift-up & floating type stand with air shaft.

Simplified construction for trouble less.

Slitter Section

Shear knives cutting method especial for paper slit.

Equipped with trim reject fan which can blow the trim out.

Winding Section

An exclusive patented magnetic powder type surface rewinding mechanism allowing rewind tension to be easily adjusted according to the material's characteristics. It also reduces the wear of driving rubber roller.

Equipped with meter counter which can stop automatically when preset length reached.

End roll warning device, for reminding the user to change the roll when the warning mark appeared.

Optional Accessories for FSL-D Roll Slitter

Web guiding system (edge).

Two-ply unwind stand.

Hydraulic ascent / descent unwind stand. (dia.1,000mm)

Unwind tension auto controller with load cell sensor.

Vacuum type trim disposal system.

Special size of rewind shaft.

Pneumatic rewind lay-on roller.

Product discharge table.



FSL-D Small Roll Slitter Video


See more complete detail
| Specifications | FSL-D800 Roll Slitter |
| --- | --- |
| Mechanical Speed (m/min) | 0-150 |
| Unwind Core Inner Diameter | 3" or 6" |
| Web Width (mm) | 300 - 800 |
| Maximum Unwind Diameter (mm) | 600 |
| Slitter Techniques | Shear knives |
| Trim Removal | Trim Blower |
| Rewind Core Inner Diameter | 1/2" - 3" |
| Minimum Slitting Web Width (mm) | 40 |
| Maximum Rewind Diameter (mm) | 150 |
Other Roll Slitter
Contact Detail
| | |
| --- | --- |
| Contact: | Alan Ho |
| Address: | 26, 7th Road, Taichung Industrial Park Taichung Taiwan (ZIP Code 40755) |
| TEL: | 886-4-23590632 |
| FAX: | 886-4-23590710 |
| Email: | alan@hci-tw.com.tw |
| URL: | http://www.hci.cc |
| ZIP: | 40755 |