Product
800 Rewind Slitter Rewinder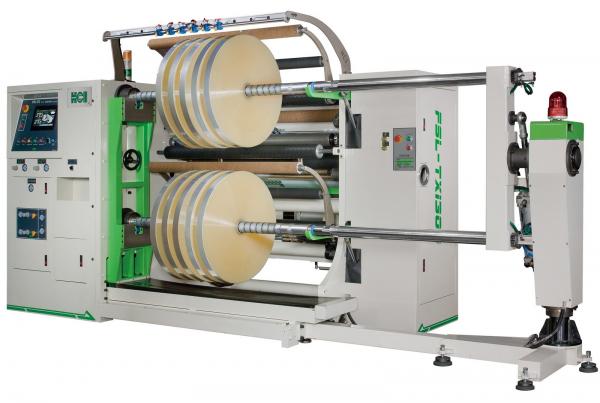 800 Rewind Slitter Rewinder
Product ID: FSL-TX
800 Rewind Slitter Rewinder has been purposely designed for large rewinding OD requirement, for slitted product OD as large as 800mm. With a solid unwinding stand and an all new rewinding shaft structure, the slitting speed can now reach up to 400m/min. It is suitable for slitting and rewinding of all kind of flexible packaging film, industrial web, electronic material and film roll of uneven thickness.
Series Model: FSL-TX1300, 1600 Slitter Rewinder
Features:
Shaft-less Unwind Stand


Strengthened structure of unwind stand which can handle the weight of jumbo roll up to 1 ton.

The left and right unwind arms are dived by motor; the operator can adjust the width freely.

Equipped with pressure chuck for clamp the parent roll quick and easy.

Unwind side control panel.

Equipped with Air Brakes. (USA Made)

Web Guiding System

Whole unwind stand can move horizontally, left and right each75 mm. It can ensure the accuracy of slitting position.

The guiding operates in two modes: Web edge & Printing line guiding

Three Motors Winding

Three individual motors: One motor drives upper rewind shaft, one drives lower rewind shaft and the third motor is connected to the main drive roller.

Unwind Auto Tension Control

The unwind tension is sensed by load cell and compared to setting value. The PLC will increase or decrease it according to the calculating difference automatically. It can maintain the stable tension output during whole slitter rewinder operation.

Pneumatic Nip Rubber Roller

Tension isolation point through pneumatic nip rubber roller, giving perfect isolation between the unwind and rewind. It also ensures no slippage or scratches when slitter rewinder running.

Duo Slitting Methods: Razor In Groove and Shear Knifes


New design of slitting structure, the setting of cutter can be done in the front side.

Minimum the flowchart after slitting ensure the smoothest cutting edge.

Vacuum Type Trim Disposal


Equipped with vacuum type trim disposal. Specially designed ejectors with powerful ventilators remove the slit edge of web.

Anti Statics Brushes

Discharge the electrostatic charge when plastic material is being slit and rewound. There are two sets of anti statics brushes, one prior to upper rewind shaft, the other prior to lower rewind shaft.

Ball Type Differential Winding Technology


Automatic calculation control for rewinding tension, employs HCI's new developed precision ball type friction ring, combined with automatic inner pressure compensation. Two independent rewinding motors and an intelligent rewinding diameter control system assure extremely stable rewinding tension without the need to adjust it when speed and diameter varied.

Pneumatic Lay-On Roller

Equipped with 2 sets of pneumatic lay-on roller. It guarantees full contact between lay-on roller and slit roll. To built the good slit roll structure.

Products Discharge Shelf

The shelf helps heavy rolls unloading as well as efficiency during slit roll exchange.

Automatical Pusher Device and Turret Type Unloading Stand (Optional)

PLC - Programmable Logic Control System


LCD colorful touch screen.

Dialogue parameter setting environment.

Parameters memory function.

Tension computes function.

Unwind end roll and web break auto detect and stop function.

Meter reached auto stop function.

Upper and lower rewind shaft different winding direction function.

Rewind tension taper function.
FSL-TX 800 Rewind Slitter Rewinder Video
See more complete detail
| | |
| --- | --- |
| Specifications | FSL-TX1300 800 Rewind Slitter Rewinder |
| Mechanical Speed (m/min) | 400(High Speed) or 300(High Torque) |
| Unwind Stand | Shaftless with Pneumatic Chuck & Floating Type |
| Core Inner Diameter (mm) | 76 / 3" or (152 / 6" Optional) |
| Web Width (mm) | 320 - 1,300 |
| Maximum Unwind Diameter (mm) | 1,000 |
| Web Guiding System | Printing Line / Edge |
| Guider Movement (mm) | +/- 75 |
| Slitting Methods | Razor In Groove Roller / Shear Knives |
| Trim Removal | Vacuum Type Trim Disposal |
| Minimum Rewind Web Width (mm) | 50 |
| Maximum Rewind Diameter (mm) | 800 |
More Slitter Rewinder
Contact Detail
| | |
| --- | --- |
| Contact: | Alan Ho |
| Address: | 26, 7th Road, Taichung Industrial Park Taichung Taiwan (ZIP Code 40755) |
| TEL: | 886-4-23590632 |
| FAX: | 886-4-23590710 |
| Email: | alan@hci-tw.com.tw |
| URL: | http://www.hci.cc |
| ZIP: | 40755 |