Product
Rewinding Machine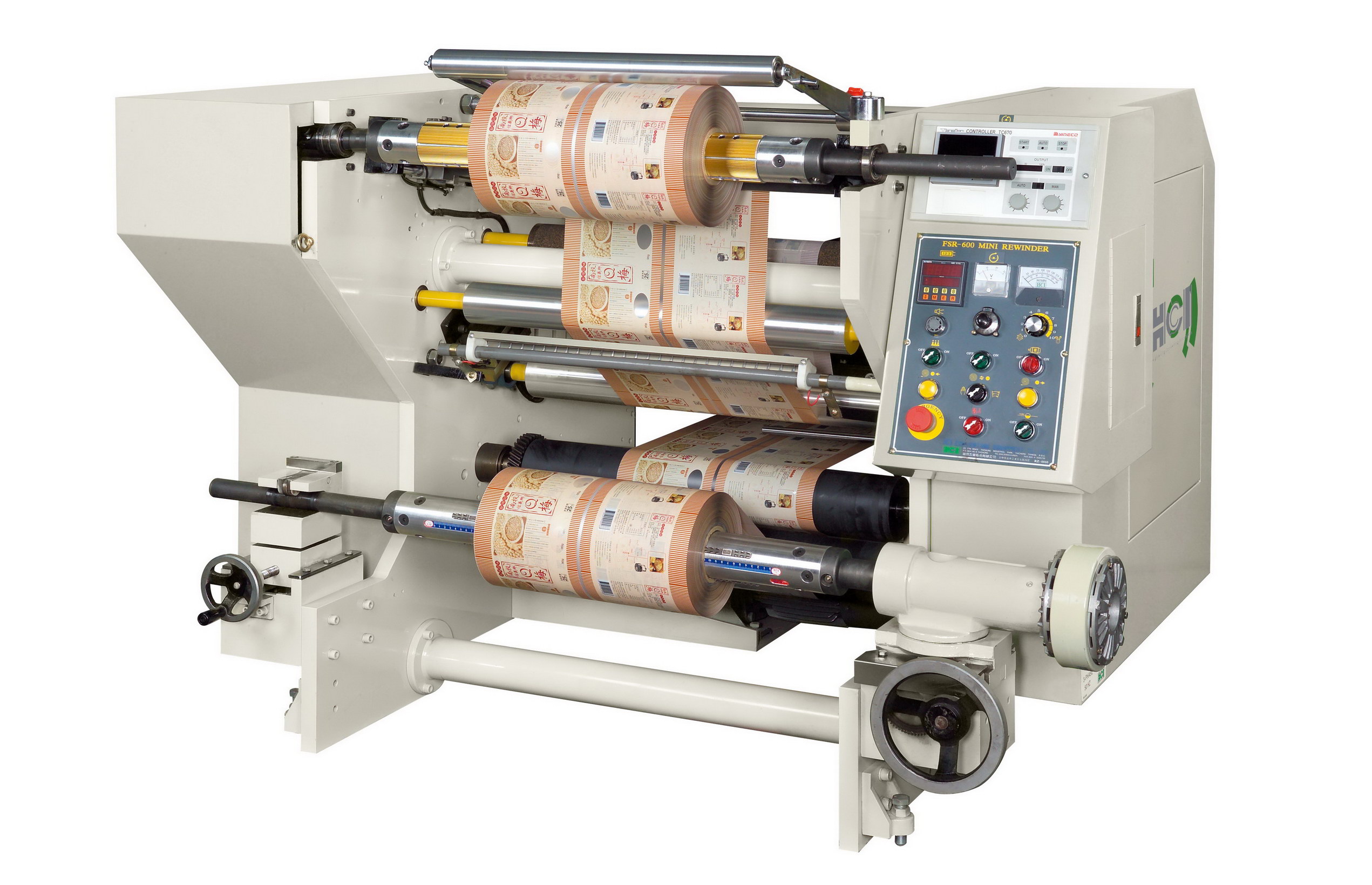 Rewinding Machine
Product ID: FSR-800
For re-reeling operation of slit rolls with uneven edges or tension. FSR Rewinding Machine will help you to achieve high quality re-reeling, even without the use of an advanced slitting machine.

Especially ideal for an automatic filling packaging machine which requires a large reel diameter and rigorous tension quality.
Features:
Swing out type unwind stand with 3" air shaft, makes the loading easer.

Employs the high precision web guiding system to turn the defective products into qualified products.

The constant rewinding tension is ensured by using the load cell sensor incorporate with auto tension controller.

Rewind tracing roller mechanism which can vary with rewind diameter due to maintain the same winding angle. This mechanism can improve the rewinding quality greatly.

Equipped with statics eliminator and rewind lay-on roller.

The man-machine interface control system is available as an option.

LCD colorful touch screen.

Tension control auto/manual function.

Unwind auto stop and break stop function.

Meter reached auto stop function.
See more complete detail
| Specifications | FSR-800 Rewinding Machine |
| --- | --- |
| Mechanical Speed [m/min] | 0-200 |
| Unwind Stand | Swing Out Type |
| Unwind Core Inner Diameter [mm] | 76 / 3" |
| Unwind Web Width [mm] | 100-800 |
| Maximum Unwind Diameter [mm] | 600 |
| Web Guiding System | Edge (Center Guiding Type) |
| Rewind Core Inner Diameter [mm] | 76 / 3" |
| Maximum Rewind Diameter [mm] | 600 |
Back to Rewinding Machine Showroom
Contact Detail
| | |
| --- | --- |
| Contact: | Alan Ho |
| Address: | 26, 7th Road, Taichung Industrial Park Taichung Taiwan (ZIP Code 40755) |
| TEL: | 886-4-23590632 |
| FAX: | 886-4-23590710 |
| Email: | alan@hci-tw.com.tw |
| URL: | http://www.hci.cc |
| ZIP: | 40755 |