Product
Rigid Film Flatten and Sheeting Machine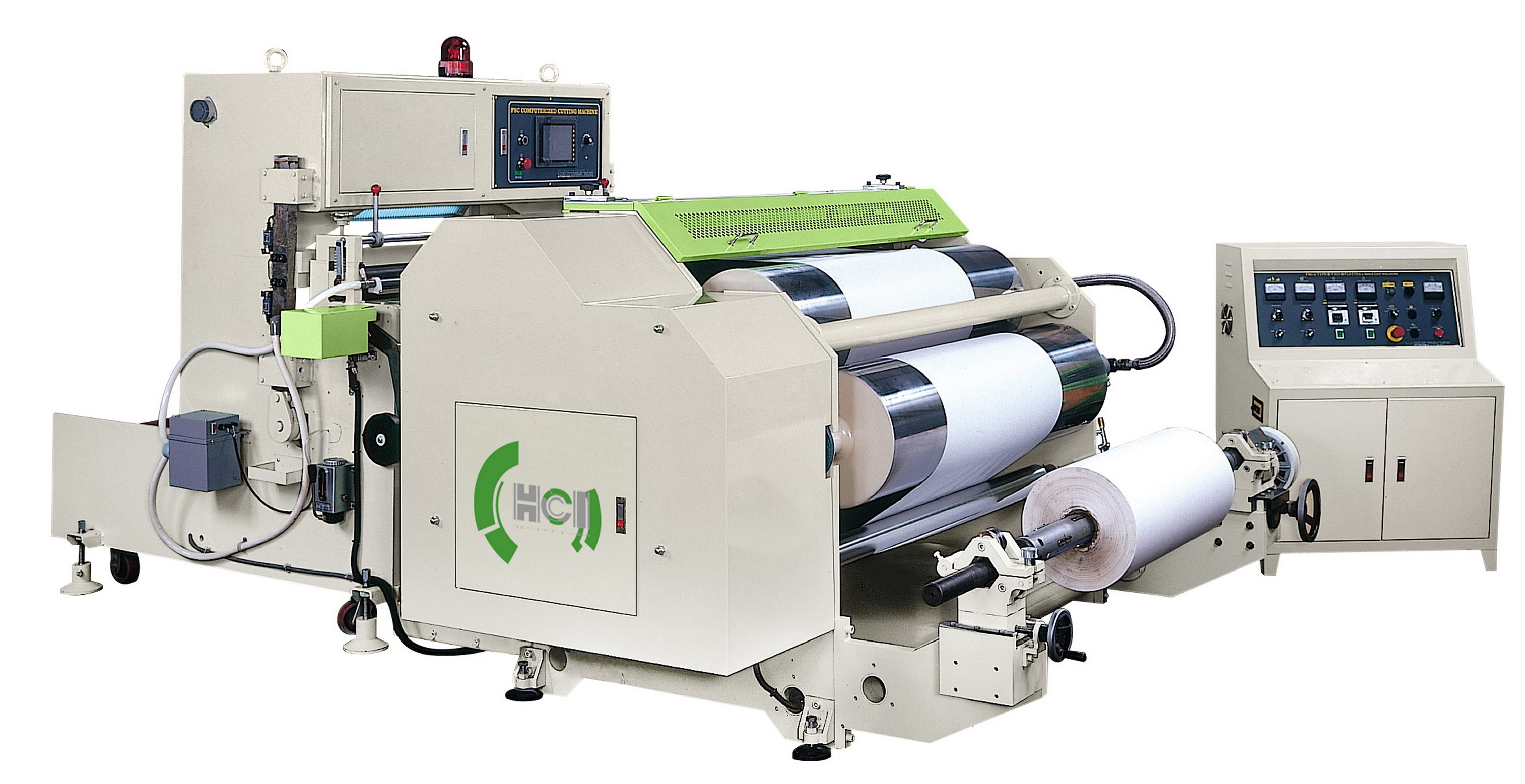 Rigid Film Flatten and Sheeting Machine
Product ID: FSC-G
Designed to flatten and slice various kinds of plastic and paper. Maximum thickness of materials can reach 2mm.
Features:
Unwinding Section

Lift-up type unwind stand with 3" air shaft. Single operator is required to manipulate and load the parent roll.
Equipped with magnetic powder brake for tension control.
The AC motor driven dancing roller unit for auto speed varied and assures that the most stable web feeding.

Flatten Section

Employs an automatic thermo-controlled heated oil circulation system; flatten films can be neatly flattened and smoothed.
The heating roll employs a hot kerosene circulation for energy and cost saving performance.

Sheeting Section

Numerically controlled stepping motor provides very accurate positioning and cutting, and reduces errors to a minimum.
The cutter is hydraulically controlled without further adjustment for cutting thick and thin materials.
Special alloy blade provides clean and long lasting cutting performance.
The cutter is specially guarded for maximum operator safety.
Equipped with static eliminator.
Products collecting board.

Control Section

Touch screen setting for cutting length, speed and related parameters.
Auto counting function.
Accumulative recording function.
Auto-stop function for photocell ineffective.

Optional Accessories

Twin shafts unwinder.
Hydraulic ascent / descent unwinder.
Web guiding system. (Line & edge)
Slitting device.
Edge trimming device.
Printing photocell (Sick Germany).

See more complete detail
| Specifications | FSC-G1000 Rigid Film Flatten and Sheeting Machine |
| --- | --- |
| Unwind Diameter [mm] [max.] | 600 |
| Unwind Inner Diameter [mm] | 76 / 3" (or on request) |
| Cutting Length [mm] | 1-9999 |
| Cutting Width [mm] | 200-1000 |
| Mechanical Speed [pcs/min.] | 10-40 |
Flatten and sheeting Machine
Showroom
Contact Detail
| | |
| --- | --- |
| Contact: | Alan Ho |
| Address: | 26, 7th Road, Taichung Industrial Park Taichung Taiwan (ZIP Code 40755) |
| TEL: | 886-4-23590632 |
| FAX: | 886-4-23590710 |
| Email: | alan@hci-tw.com.tw |
| URL: | http://www.hci.cc |
| ZIP: | 40755 |