Product
Differential Shaft / Friction Ring
Friction Ring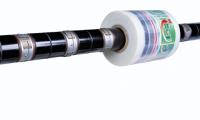 Differential Shaft
Product ID: HCI Quick Lock Ring
For differential shaft use- HCI quick lock ring can handle various torqueses between differential shaft and friction ring providing uniform rewinding tension for each reel. Rewinding speed difference caused by material thickness variation can be compensated by the sliding motion that ensures consistent tension at all times.
Features:
HCI self-developed Differential Shaft & Friction Ring, PATENT NO. 186461

Designed for convenient replacement of paper core without scratching. Offers the same convenience as an air shaft.


Suitable for fitting on a new or used slitting and rewinding machine without affecting the original machine's structure and operation.

Ball Type Friction Ring is available on HCI Slitting Machine as optional.
See more complete detail
Contact Detail
| | |
| --- | --- |
| Contact: | Alan Ho |
| Address: | 26, 7th Road, Taichung Industrial Park Taichung Taiwan (ZIP Code 40755) |
| TEL: | 886-4-23590632 |
| FAX: | 886-4-23590710 |
| Email: | alan@hci-tw.com.tw |
| URL: | http://www.hci.cc |
| ZIP: | 40755 |